Nudie Jeans
Tuesday, December 30, 2008
As soon as I got into streetwear, my first obsession was sneakers and hoodies. But as I dig deeper into the trend, I found myself fixated in the denim scene. I started off buying a pair of raw True Religion jeans (the Billy cut), just to see what the hype was about for this brand. When I got it, I was disappointed by the way it fit. The jeans were labeled my size, but they fit about 3 times bigger than it was supposed to. After soaking and several washes, the jeans were still too big. Overall, the jeans were pure crap. The front pockets were too small, everything would fall out of your pocket whenever you sat down. The back pockets had huge buttons that would wedge into your buttocks when you sat on hard surfaces. The jeans simply were not made for me and they looked horrible with sneakers. 
Since I was still into those hype brands, my next pair was these raw Rock & Republic jeans, which fits great and looked great. Unfortunately, these jeans only looked good when I rocked them with my wallabees. They simply looked out of place with my sneakers and I didn't really like the embroidered "R's" in the back pocket. Then, I started learning about the history of denim and got my first introduction to selvedge denim and their superior construction. I actually got my first pair of selvedge denim from GAP, they were on sale for $20 and I couldn't resist. It was the Gould cut, and they were just too baggy. I wore them for a few months, mainly to breakdance in since they were baggy. I was not impressed by the fit at all, but for $20, they weren't bad. 
I then saved up enough money to get my first good pair of selvedge denim, Nudies Regular Ralf from cultizm.com. I've heard a lot about the Swedish brand, and I really wanted to own a pair myself. I remember when I first got it, I was really excited. I wore them to sleep and ruined my white sheets, it was stupid, but I didn't care. I wore those jeans almost every day for like 6 months. They were fading really great and I could see my masterpiece coming to life with prominent whisker, honeycomb, and stacks mark fading away the indigo dye. At around 8 months of owning the Nudies, I wanted another pair of jeans to cycle into my daily wadrobe, so I got a pair of 21cm Dior Homme raw denim. They weren't selvedge, but they had amazing fit. I really wanted them for the fit, but also for the scar stitching in the back pocket and that subtle metal tab on the belt loop. The Diors were great, but I always went back to my Nudies. 
For some reason, I had an affinity to the Nudies and I couldn't stop wearing them. I washed my Nudies for the first time after wearing it for about a year, which was great because they started stretching a lot and washing them shrunk them down to my size again. Now, I just wash them anytime it gets dirty or stretches out. So far, no rips, no crotch blowouts, no problems. I am hoping to wear them for a few more years. I've added some 10 deep selvedge jeans into the cycle as well as some uniqlo selvedge skinny jeans, but there's nothing special about them. They just don't do it like my Nudies. I know a lot of denim connoisseurs prefer other brands like samurai, sugarcane, or flathead over Nudies any day, but I really love my Nudies and it made me realized what being a true denim connoisseur is all about. It's about the love for wearing jeans and wearing them until it perfectly molds into your lifestyle. It's not about having a bunch of the most expensive jeans or the highest quality jeans. It's about finding the pair of jeans that you love wearing so much, you feel like you're betraying it by wearing any other pair of jeans. This is not to say you are limited to love only one pair of jeans to be a true denim connoisseur, what I am saying is that you need to have the love for wearing jeans in general. 
The love for wearing them comes with an understanding for the way it feels, the fit, the cut of the jeans, the quality, the material, ect. If all of this fits your expectation, then you've found a good pair of jeans. At the end of the day though, it's all about wearing what you like and what you feel good in. Ignore those that tries to tell you otherwise.
posted by Fysh Mammal
FYSH x Bic
Wednesday, December 24, 2008
We just got in some new merchandise, Bic lighters, decals, and some new stickers. The new season items are in as well, stay tune for that. The winter release is just right around the corner after x-mas.
posted by Fysh Mammal
Red Bull Battleship
Tuesday, December 23, 2008
DJ SK
invited me and the
BF
to head down to Wilmington to check out a Skate boarding competition hosted by
Red Bull
.
Red Bull Battleship
took place on none other than the one and only historic
WWII USS
North Carolina, RIGHT ON THE DECK! The deck of the ship was turned into a skate park as 9 skate shops faced head to head in a tournament style competition for money, and huge torpedo shaped trophies(I'm not kidding). Among the nine teams, shops showed up from FL, GA, NC, and SC, including our friends over at
Vertical Urge
and
Endless Grind
. I wasn't able to get some good shots of the
Endless Grind
team, but big ups to them for taking home 3rd place! The Results:
1st Westside Skate Shop, Tampa, FL
2nd Skate Park of Tampa, Tampa, FL
3rd Endless Grind, Raleigh, NC
4th Ambush, Atlanta, GA
5th Vertical Urge, Raleigh, NC
6th Double Wide Skate & Surf Shop, Wilmington, NC
7th Continuum Skate Shop, Charleston, SC
8th Board City, Jacksonville, FL

Whats a trip without stopping by Bojangles
DJ SK holdin it down on the 1s n 2s
PLENTY of RedBull n RedBull Cola

Scotty from Vertical Urge
Connor from Vertical Urge
Thanks again to
Jodi
for inviting us, It was a great day :)
Labels: Red bull Skateboarding DJ
posted by Carolina
Cool Kids repping FYSH in Tennessee
Sunday, December 21, 2008
A little while ago, our boy Jimmy gave Chuck Inglish from the Cool Kids one of our beanie to rock for his performance in Raleigh, NC. Coincidentally, my lil sister's boyfriend was at their concert in Nashville, TN recently and saw Chuck repping our beanie again. Big ups to Cool Kids for giving our little brand some love and big thanx to Duong for taking the pictures.
posted by Fysh Mammal
Nike China Commercials
Thursday, December 18, 2008
Yea I know 3 videos in a row? I had to post this one. Hopefully next time I post we'll have some real pics of FYSH fall.
Courtesy of Jeff Staple of www.stapledesign.com
posted by Kenny Tran
NERD - Sooner or Later
Tuesday, December 16, 2008
posted by Kenny Tran
HaLo & J.sol "Fixed Bodega" video

Check out our boy HaLo and J.sol's dope video "Fixed Bodega"


posted by Fysh Mammal
FYSH Papertoy in the works
Saturday, December 13, 2008
Ever since I started getting into the world of papercraft, I really wanted to make a papertoy of Fysh. Originally, I started trying to model him off our 3D designs, but that looked to be too complicated of a design to craft. Anyways, I am working with some of the guys from the www.nicepapertoys.com forum and they're helping me achieve our first Fysh papertoy. Here's a sneak peek at a rough model I've made:
posted by Fysh Mammal
The Pocket Watch
Wednesday, December 10, 2008
So this holiday season I really wanted to get a watch. Ricky is over there rocking like 3 G-Shocks at a time and AT is sporting this nice SEIKO that his wifey bought. What am I going to get? I started looking at a bunch of G-Shocks and had me heart set on this clear one for ~120. Then one day a few weeks back I was sitting around with John (my room mate and FYSH affiliate) and thought I'd be awesome if I rocked a pocket watch with a chain and everything. DONE.
Found an old antique shop here in RTP, NC and they had a whole selection of pocket watches. I met this really nice lady name Diane and she pretty much gave me the deal of the century on the pocket watch. PURCHASED.
Whenever I tell someone I bought a pocket watch they almost immediately ask, "why?". I had to think for a while and what I came up with was a lot of reasons. It's for the same reason why I wear raw denim and haven't washed them in 2 years. The same reason I ride a fixed gear bike with no brakes. It's niche thing that I can call my own plus it has a lot of elegance that a watch doesn't have.
American Waltham circa 1890.
30 hour wind
Hand Set
PICS:
posted by Kenny Tran
COOL KIDS
Tuesday, December 9, 2008
The Cool Kids concert was right in our hometown last night at Cat's Cradle. Sadly I couldn't make it, which I am regretting. None the less, my homeboy Jimmy did and he told me they ripped it. If you haven't heard of the Cool Kids, then check them out:
www.coolxkids.com
Here's some Fysh love from Chuck Inglish, who swapped headwear with our boy Jimmy. We gotta thank Jimmy and his friend for the photos.
Check out new Q-tip, Common, Ludacris, 88 keys and Clipse Mixtape if you haven't yet.
Til next time.
Labels: Cats Cradle, Cool Kids
posted by Rickter Scale
Hundreds X Disney
I have to say, there have always been some really unique collaborations in "streetwear" (I really hate using that word). Usually the best ones happens when some big giant corporation teams up with a small underground clothing brand. These collabs are cool because it enables the corporate people to go back to their roots. Whether this is just a money-making scheme or a really genuine project is up to the consumer. Everybody knows about the typical Nike collaboration with everyone, or New Era collabs, but most recently, The Hundreds have teamed up with cartoon giant Disney to create a whole line of very dope items (mens tees, girls tees, and hats).
The Hundreds has to be one of my favorite brands. Based out of Cali, most notably in Rosewood and recently in San Francisco, they are a true inspiration for us. As a designer for FYSH, The Hundreds is definitely a brand that we aspire to be like. They are very homegrown and local-minded. The brand recently celebrated their 5th anniversary and it seems like they are bound for greatness and continued success. Their mantra is simple and their clothing represents who they are.
Anyways, check out this short vid about the inside workings of Hundreds
X
Disney:
Hundreds Follow Up (some really awesome pieces):
posted by Kenny Tran
SNL Digital Short
Monday, December 8, 2008
Andy Samberg is getting REALLY good at these digital shorts. It has become one of his fortes on SNL. The production quality on this video is superb, but that is besides the point.
Labels: SNL
posted by Kenny Tran
MarshallAlexander.net
Saturday, December 6, 2008
So I was doing my daily browsing on gizmodo and there was this blog on MarshallAlexander.net. I didn't know what it was, but due to my love for collectibles such as dunnies and all those kidrobot toys, I had to check it out. To my delight, this site offered free downloadable pdf's of papertoys that anybody can make. These creations are truly genius and I am now dwelling more into the world of papertoys (I am hooked, they're amazing). You guys will most certainly have to be on the lookout for a FYSH papertoy soon because I am now on a mission to create one. Anyways, check out this website, make some neat toys that you can give away, and spread the word about this incredible niche.
posted by Fysh Mammal
December First Friday Sale @ F|M Goods
Thursday, December 4, 2008
As always, F|M Goods will be hosting another dope First Friday event. Except this time, there's going to be a sweet SALE going on. I highly encourage you guys to hit up the spot, grab some free beers, meet some really cool people, and definitely cop yourself something fresh. If all that fun isn't enough for you, hit up Blacklisted at 5 Star for some good music and kick it with the same cool people you just met.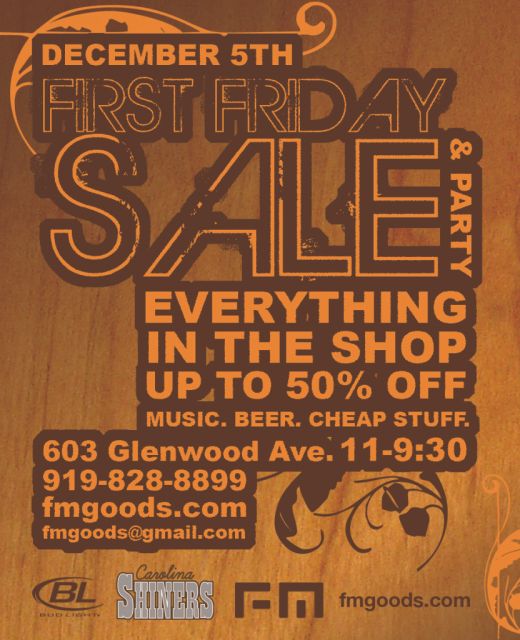 posted by Fysh Mammal